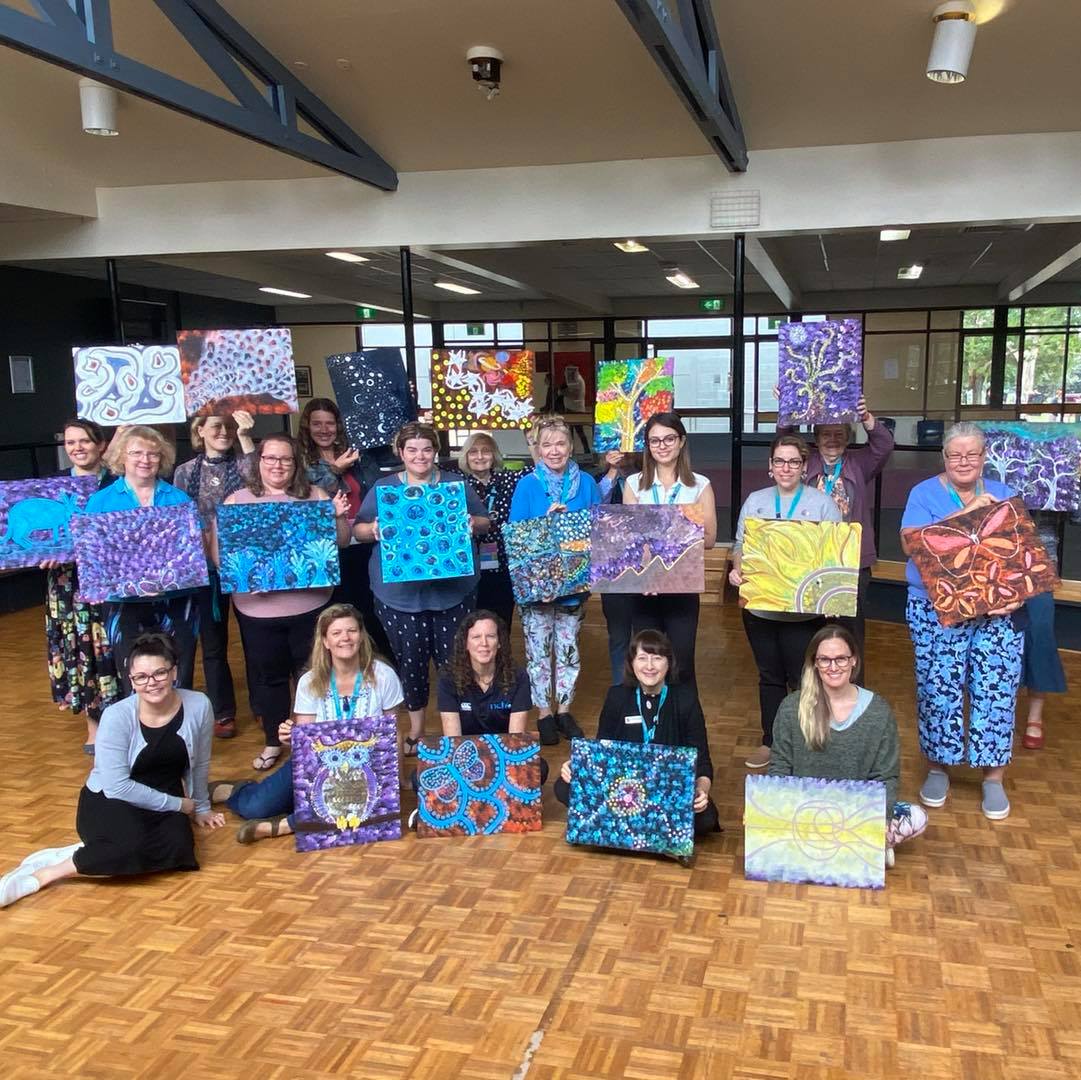 In-Person Workshops
You can opt for a 'BYO Workshop' where participants supply their own materials, or an 'All Inclusive Workshop' which provides:
All materials (canvas boards, paint, palettes, brushes, cloths, water jars, and table covers)
Setup and pack up service

*Please note, the client is responsible for providing a venue equipped with sinks, tables/chairs, and projector access for presentations, regardless of workshop choice.
BENEFITS OF THE WORKSHOPS
Connect with friends, family, or team members
Unleash your inherent creativity
Decompress and contribute to your overall well-being
OBJECTIVES OF THE WORKSHOPS
To facilitate self-discovery and offer an outlet for stress relief
To foster trust, kindness, and understanding within teams
To provide a safe environment to explore and understand Aboriginal culture
EXPECTED OUTCOMES
Enhanced mental health and well-being for teams and organizations
Strengthened relationships and collaboration within your team
Increased understanding of Aboriginal culture, benefiting both personal and professional spheres
Sample Workshop Format
Setup (Approximately 1 hour)
Welcome & Acknowledgement of Country
Introduction to Marrawuy Journeys and concepts 
Design phase where participants plan their creations
Creation phase where participants bring their artworks to life
Sharing phase where participants present their work to the group
Wrap-up (Approximately 5 minutes)
Pack up (Approximately 1 hour)
Pricing
Workshop pricing is contingent on chosen format (BYO vs all-inclusive), workshop duration, and the number of participants. Please follow the 'Request an in-person workshop' link and provide details of your preferred workshop, timeframe, and number of participants for a tailored proposal.
Ethics Notice
Genuine Aboriginal art is exclusively created by Aboriginal individuals. It's inappropriate and unethical for non-Indigenous people to create or incorporate Aboriginal-style art for selling as their own work. Marrawuy Journeys workshops focus on fostering connection, collaboration, and decompression. They are not designed to teach Aboriginal art.