Product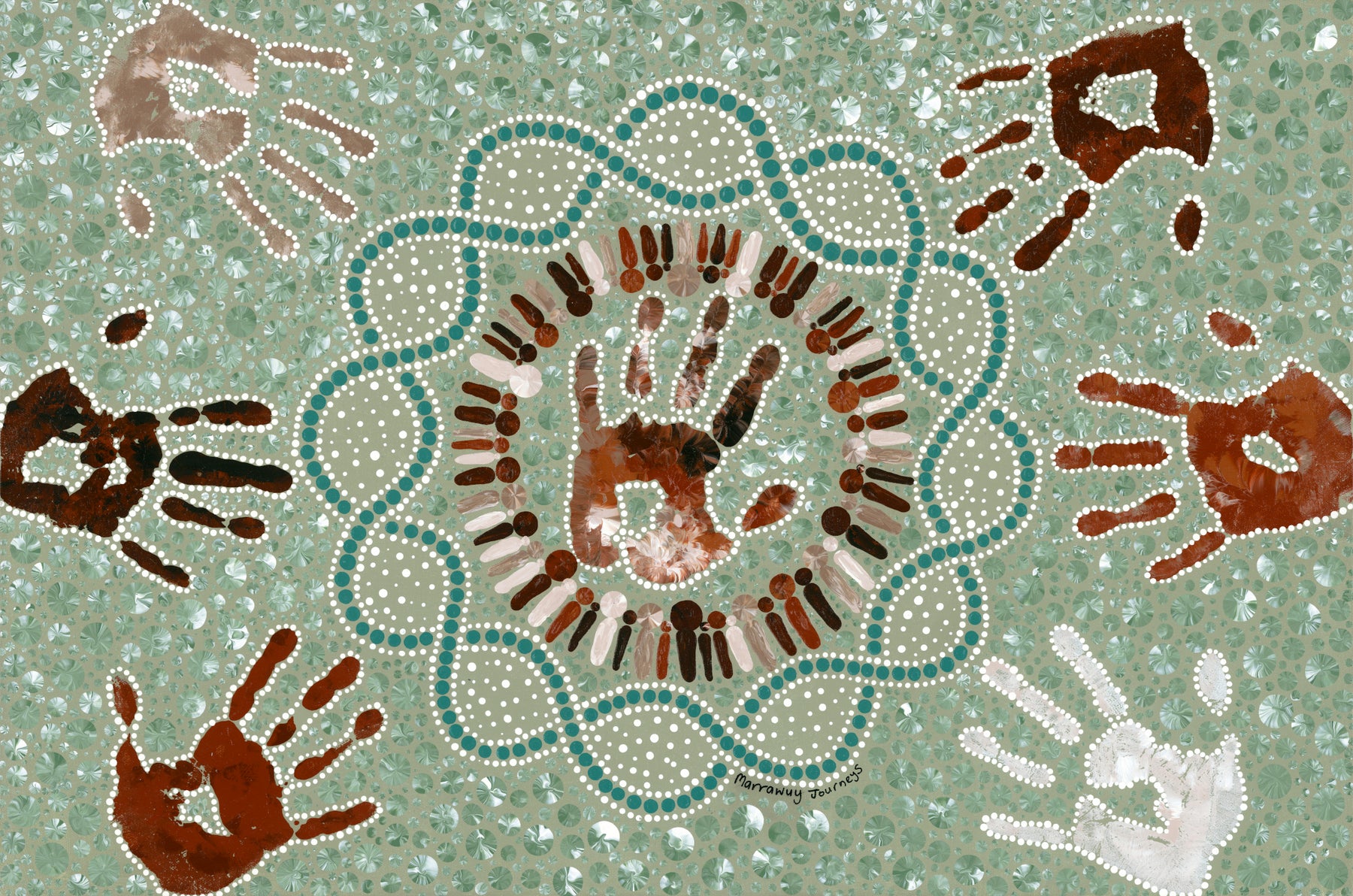 Independently Together Jigsaw Puzzle, 1000-piece
Australian-made 1000-piece jigsaw puzzle featuring Marrawuy Journeys' 'Independently Together' artwork. 
Story behind Independently Together

"Independently Together" is inspired by Maya Angelou's empowering quote, 'In diversity, there is beauty and there is strength.' The six hands of various shades of brown represent individuality and diversity, each representing a unique identity and background. The hands are placed around the painting to highlight the importance of embracing differences and celebrating the beauty found within diversity.

The two interlocking lines symbolise commitment and represent the idea that despite our differences, we are interconnected and share a common goal of unity and inclusivity. Moving towards the centre of the artwork, figures of different shades of brown are depicted, further emphasising the diversity and range of identities within the community. At the heart of the painting, a hand emerges, combining all the colours together. This hand represents the commitment to diversity and acknowledges the strength that arises when individuals come together, united in their unique qualities and perspectives.

The choice of green adds another layer of meaning to the artwork. Green traditionally symbolises growth and renewal, serving as a reminder of the continuous progress and development that comes from embracing diversity. "Independently Together" conveys the message that unity and strength can be found in acknowledging and appreciating each other's uniqueness and diverse perspectives.
About Our Puzzles
Our puzzles are locally manufactured by QPuzzles in Queensland, Australia. QPuzzles check all the boxes - making them one of the world's most environmentally friendly and responsible jigsaw puzzle manufacturers. Safety is a priority for QPuzzles - so they ensure that anyone handling their puzzles (especially children) is not handling carcinogenic or toxic materials found in other similar products. All components used to manufacture QPuzzles' products (including puzzle boards, papers, inks, wrapping and glues) are certified with one or more Green, Eco, Earth-friendly, Food Safe and Toy Safe certifications.
Pickup available at 11 Ricketts Pl
Usually ready in 2-4 days
Independently Together Jigsaw Puzzle, 1000-piece
11 Ricketts Pl
Pickup available, usually ready in 2-4 days
11 Ricketts Pl
BUNGENDORE NSW 2621
Australia
0421418638